Mark O. Hatfield's lengthy career of representing Oregon is the subject of the Oregon Historical Society's traveling exhibit now on display in Hatfield Library, 2nd floor.  The Call of Public Service: The Life and Legacy of Mark O. Hatfield explores his career and highlights the issues Hatfield championed including healthcare, education, equal rights, the environment and world peace.  The exhibit is on display through November 15, 2021.
Hatfield graduated from Willamette University in 1943. After serving in the U. S. Navy during World War II, he completed a Master's Degree in political science at Stanford University, then returned to Willamette University as an assistant professor and dean of students. Hatfield began his political career at the age of 28, when he was elected to the Oregon State House of Representatives in 1950. During his forty-six year career, he served as Oregon's Secretary of State, Governor, and U.S. Senator.
Hatfield, pictured to the right in front of the Oregon State Capitol, donated his papers to Willamette University Archives.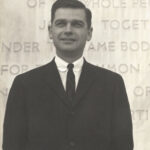 The collection includes materials from his time as Oregon Secretary of State and governor through retirement. The bulk of the collection relates to his time in the U. S. Senate documenting his legislative work, constituent services, communications and media, and campaign efforts. The large collection is currently being processed and will open to researchers on July 12, 2022. For more information on the collection, contact archives@willamette.edu.