Please join us on Thursday, November 19, at 4:10 p.m. at this URL:
https://willametteuniversity.zoom.us/j/94681700772
for our sixth Faculty Colloquium of this semester.
Title: Truth and Reconciliation: A Residency Program for Transformation
Presenter: Rebecca Dobkins, Professor of Anthropology and American Ethnic Studies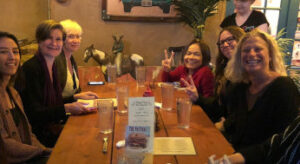 Abstract:  The Santa Fe Art Institute is an independent arts organization that hosts annual thematic residencies for critical inquiry and cultural exchange amongst artists and arts practitioners around issues of social justice. In fall 2019, I was honored to be invited as one of many artists, content experts, and innovative thinkers to be in residency to explore how revealing and acknowledging truths can be used to seek healing, change, and redress for communities around the world. In this presentation, I will describe my own project and those of a selected few of my more than 30 co-residents. Prepare to be inspired!
Bill Kelm and Kathryn Nyman
Faculty Colloquium Coordinators