Welcome to the Mark O. Hatfield Library (MOHL). We are thrilled to welcome all Bearcats, new and returning, as well as students and colleagues from CST. For some of you this update will reflect some changes to the way you are used to us doing things and for others it will be an introduction to us. For comprehensive information about the building, services, collections and policies please visit our website at http://library@willamette.edu.
Building:
The maximum occupancy of the MOHL is 100 people until further notice. Access to the building is restricted to current students, staff and faculty of Willamette University and Claremont School of Theology. Bring your ID card as a card swipe is required for access. Given campus rules and occupancy restrictions we can not welcome guests, children, spouses, etc.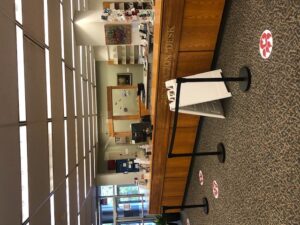 Fall hours reflect our attempts to balance student academic needs against employee and student health concerns. Hours may be adjusted as the campus and community health situation change.
August 17th to August 21st, 11 a.m. to 4 p.m.
Regular hours (including the Fishbowl) starting on August 24th:
Monday to Thursday: 9 a.m. to 9 p.m.
Friday: 9 a.m. to 5 p.m.
Saturday: Closed
Sunday: 1 p.m. to 9 p.m.
Archives hours are by appointment only.
• Group and individual study rooms will be closed until further notice.
• Masks are required and seating has been arranged and marked so as to encourage social distancing of at least 6 feet.
• Closed container beverages are permitted but eating is prohibited until further notice. Water fountains have been shut off until further notice.
Circulation:
• Desk hours are the same as for the library.
• Please note that for the duration of the COVID-19 crisis, physical reserves have been suspended.
• Summit and ILL are active, but many higher education institutions are not yet participating.
• All items removed from the shelves, returned, or ordered vial ILL or Summit will be quarantined for 72 hours before being available. Please take account of this delay and plan accordingly.
• Contactless check out will remain available for those that request it in the front vestibule. You may access the vestibule with your valid ID 24 hours/day.
Reference and Instruction:
The majority of reference and instruction interactions will be virtual in the fall. We will use chat and Zoom for most of these interactions. Don't worry if you don't have a device with Zoom with you, we have workstations set up in the library you can use.
More details can be found on the library's website. https://library.willamette.edu/
Collection Update:
Just a reminder that over the summer the majority of the bound periodicals moved to offsite storage. You can request articles using our ILL infrastructure.
The collection of monographs and thesis we received from CST arrived over the summer, are shelved as their own collection on the first floor of the library, and are available for browsing and borrowing. They may be found via our online catalog.
Please don't hesitate to contact us at library@willamette.edu or 503-370-6018 with any questions.