By Michael Spalti, Associate University Librarian for Systems mspalti@willamette.edu
The phrase "International Image Interoperability Framework" doesn't exactly roll off the tongue. You might also guess that it's irrelevant to researchers, educators, librarians, museum curators, and students. But there's more to tell.
IIIF (pronounced triple-eye f) was first conceived in 2011 as a collaboration between The British Library, Stanford University, the Bodleian Libraries (Oxford University), the Bibliothèque Nationale de France, Nasjonalbiblioteket (National Library of Norway), Los Alamos National Laboratory Research Library, and Cornell University. It has since grown into broader international collaboration and consortium.
IIIF solves a problem that has accrued over the last two decades. Willamette University's digital collections offer a small but meaningful example. The digital images created from materials in the University Archives and Hallie Ford Museum include around 15,000 items that are accessible to anyone, anywhere. While this is great, it comes with a caveat. These materials are accessed through the software tools that we provide. In many cases, the software is unique, designed to work well with our collections and not portable into other contexts. It's similar to the old problem of "you can work on this file using program X but not using program Y." The opportunities for sharing and creativity are limited by software, protocols, and file formats.
Here's an example from the world of medieval manuscripts. It's a sad fact that, in the past, illuminations have been cut from manuscript pages by unscrupulous collectors and sold for profit. In some cases, the stolen illuminations have found their way into other library collections. With digitization and a bit of scholarly sleuthing, it's possible to discover and view these stolen details from a distance, but how do you reconstruct the manuscript in a virtual setting?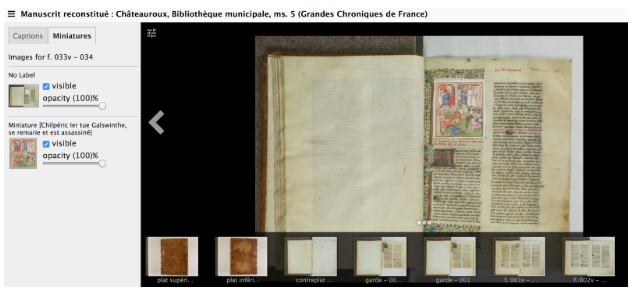 One of the many applications of IIIF is online manuscript reconstruction. Using an IIIF-compliant viewer you can create (and publish) a manuscript page that is virtually intact. This example from the Biblissima project uses the Mirador image viewer. It shows two accurately positioned images: one is the full manuscript page and the other the missing illumination. The images come from two separate repositories that could be located anywhere in the world. The only requirement is that the repositories and the image viewer "speak" IIIF as a common language for sharing, comparing, annotating, and in this case, layering image views. IIIF can also be used to aggregate content for machine learning applications that can transcribe, translate, or look for patterns in images.
Within the IIIF community there is much work to do. In addition to improving and extending the framework, software projects that implement IIIF must be continuously maintained and new features and capabilities added. Still, nine years after the project began, an impressive amount of progress has been made.
Coming to the Library Soon
As part of the Hatfield Library's transition to a new digital repository we plan to make our image collections IIIF-compliant. The initial IIIF support has been developed in-house using open source software contributed by other organizations (most notably at the MDZ Digital Library team at the Bavarian State Library in Munich, Germany) and capabilities provided by the new DSpace 7.0 repository (which is still under development at the time of writing).
The transition to a new digital repository platform is a practical necessity. The addition of IIIF adds some excitement. While most users will experience IIIF passively as the default image and document viewer for our new repository, there are more interesting possibilities for teaching and research. Here's another example, continuing in the medieval manuscript theme.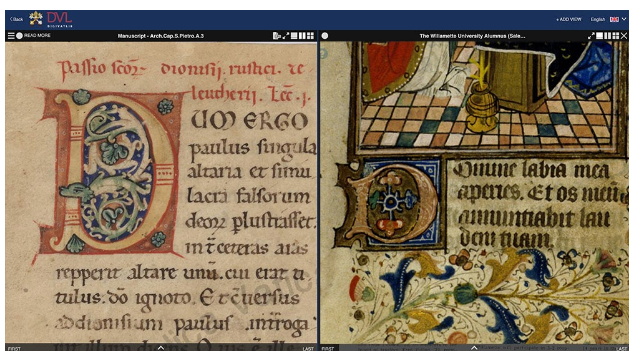 The image above shows the IIIF image viewer provided by the Digital Vatican Library. I initially loaded a full manuscript from the Vatican's collection. Next, I selected a page from the manuscript and zoomed in to detail. Then I clicked "ADD VIEW" and provided a Web address (URL) for a book of hours manuscript in Willamette's rare book collection. The local manuscript loaded into the Vatican viewer. I navigated to a page and zoomed in to compare page details. It would be simple to reverse the process, using a local IIIF viewer to capture, save, and publish these comparisons in a class web page or online publication. (Full disclosure: because the book of hours is not in my test repository as of writing, I actually loaded a copy of a Willamette alumni publication into the Vatican viewer to test the functionality, which does indeed work!)
IIIF can be used across all disciplines. For those in the humanities, the IIIF Consortium and the Digital Humanities Summer Institute have partnered to offer a workshop on IIIF for those interested and able to attend.