Dear Colleagues,
We hope the following guidelines and services will enhance access to the MOHL's resources, including physical collections, while the library is closed.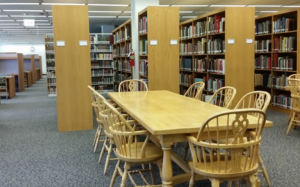 Prioritization of requests:
1) Items to be put on reserve for an entire class (creating a scanned copy)
2) Items for Seniors completing a thesis
3) Items for Faculty
Digital Collections – Digital books and periodicals remain accessible from campus and remotely. If you have difficulties please contact us at library@willamette.edu for assistance.
Interlibrary Loan:
1) Requesting and borrowing of articles (digitally) continues via ILL button in the library catalog. Fulfillment may be delayed.
2) Requesting of physical items from Summit and ILL has been discontinued indefinitely. Summit has shut down until further notice and the vast majority of institutions have discontinued physical ILL lending as well.
Items in the Mark O. Hatfield Physical Collection:
1) Digital Course Reserves– Faculty, please contact library@willamette.edu or your liaison librarian to discuss getting items digitized for posting in WISE.
2) Articles from the bound print periodicals – Please use the "scan on demand" button in the library catalog (see example). We will email you the scanned article as soon as we can.
3) Book chapters – please send the full citation including chapter(s) needed to library@willamette.edu. We will scan the chapters and return them to you as quickly as possible via email. There is no turnaround guarantee.
4) Full Books (Seniors completing a thesis or faculty) – please send the full citation to library@willamette.edu.
a. Living within 60 miles of Campus: Indicate "On-Campus Pickup" in your email subject heading, and we will pull the book, check it out to you, and send you a numerical pickup code associated with the book via email. (For privacy reasons we won't label books with your name). It will be placed on a book cart in the library vestibule for you to pick up. You will have 2-days to pick it up once you receive the email. Once we check it out to you, you are considered responsible for the book. You will need a valid ID to access the vestibule.
b. Living more than 60 miles from campus: Indicate "Deliver via Mail" in your email subject heading. We will check it out to you and send you an email indicating the item(s) we have sent. Once we check it out to you we will consider you responsible for the book, including returning it to the library. Be sure to include your mailing address in your email.
Note: For items, you have right now, you can return Summit or Willamette items to our book drop or hold on to them until the library re-opens. The library will not be charging any fines. You still will be responsible for any lost items.
Please direct any questions to library@willamette.edu or cmilberg@willamette.edu.
Best Regards,
Craig Milberg
University Librarian