By Jenny Gehringer
PNAA Processing Archivist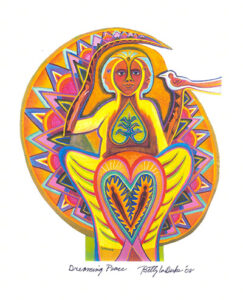 Additional materials for the Betty LaDuke papers have been processed and are open to researchers. This collection documents Betty LaDuke's prolific career as a painter from 1950 to 2018. It includes her photography and sketchbooks from various international and domestic travels as well as materials that document her advocacy and representation of cultural traditions and women artists around the world. This collection also contains personal documents concerning her family and friends.
LaDuke has completed several large-scale projects, including multi-panel exhibitions and murals. Her creative process involves developing a series of sketchbooks and taking numerous photographs during her travels which then form the basis for her larger works and exhibitions. Other thematic elements in her work include animals, rituals, and celebrations, which she uses to illustrate similarities among geographically and traditionally disparate cultures.
LaDuke has exhibited extensively throughout the United States and is represented in many public collections, including Willamette University's Hallie Ford Museum of Art (HFMA). You can discover LaDuke's work on campus through rotating exhibits at the HFMA and a permanent display at the third-floor of the Putnam University Center.
For more information about this amazing collection, please see the finding aid. You may also access additional information and resources concerning LaDuke and her art through the libguide Betty LaDuke: Social Justice Revisited. The Betty LaDuke papers were processed thanks to the National Historical Publications and Records Commission (NHPRC) grant Willamette University received to increase accessibility to the Pacific Northwest Artists Archive.