By Jenny Gehringer, Stephanie Milne-Lane, and Rosie Yanosko
Willamette University Archives and Special Collections
October is American Archives Month! The Willamette University (WU) Archives and Special Collections is celebrating by sharing what our archivists are currently working on through our blog and the Mark O. Hatfield Library Instagram, Twitter, and Facebook pages. We invite you to learn more about our collections and how we provide equitable access to historical documents and materials!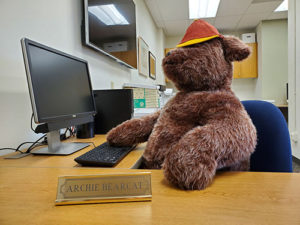 The WU Archives and Special Collections collects, preserves, and makes available WU records of enduring value and primary source materials focusing on the Pacific Northwest. We have four main collections categories: University Archives and Records, Political Papers, Personal Papers, and the Pacific Northwest Artists Archive (PNAA). We currently have three archivists on staff who are processing collections and providing reference services for our campus and public communities.
Stephanie Milne-Lane is the Processing Archivist and Records Manager for our Archives. She provides reference services for all collections in our repository, assists University departments concerning records management, provides educational opportunities to students, and processes University, political, and personal records. In addition to her varied responsibilities, she is currently processing the Rex Amos papers, which is part of the PNAA.
Jenny Gehringer is the Processing Archivist for the Pacific Northwest Artists Archive (PNAA). The PNAA is a collaborative project of the WU Archives and Special Collections and the Hallie Ford Museum of Art and includes materials related to the careers of artists who are or were active in Oregon and Washington for most of their careers. Jenny is tasked with processing 16 PNAA collections during her 18-month tenure and is currently assessing and processing the Rick Bartow papers. Her most recently completed collection is the Betty LaDuke papers.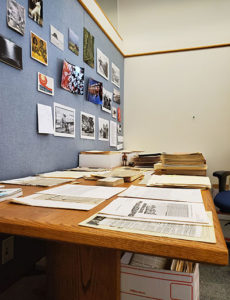 Rosie Yanosko is the Processing Archivist for the Chuck Williams Collections. Williams was an environmental activist and professional photographer who was of Cascade Chinook descent and a member of the Grand Ronde Tribe. His activist papers are housed here in the WU Archives, while his photographs are housed at the Oregon State University Special Collections and Archives Research Center. During her 12-month tenure, which is funded through the Library Services and Technology Act (LSTA) Competitive Grant Willamette University received, Rosie is appraising, processing, and developing finding aids for these collections. She is also planning a panel discussion which will highlight Williams' legacy as an environmental activist.
Please check out our blog and the Mark O. Hatfield Library's Instagram, Twitter, and Facebook pages throughout October for more information, photographs, and fun facts!