By Jenny Gehringer
PNAA Processing Archivist
Researchers can now access additional materials from the Stella Douglas papers. New materials related to Douglas's career as an art therapist, her work as a social activist, correspondence with artist Helen Blumenstiel, and Douglas family records are processed and integrated with the Stella Douglas papers on Moral Re-Armament. The integrated collection documents Douglas's personal life and career from 1927 to 1993.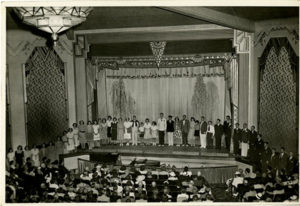 Estella Jean Douglas was born in Salem, Oregon on January 21, 1927. At age eleven, Douglas was inspired by what she described as "a flood of creative energy" to begin her lifelong calling to be an artist. In 1944 Douglas planned to enter a five-year degree program offered by Reed College with the Portland Art Museum School, but instead joined the Moral Re-Armament (MRA) program. Douglas participated as a full time volunteer in MRA from 1945 to 1957, during which she lived at MRA's two main headquarters in Los Angeles and Mackinac Island, Michigan. She also lived in London, England and Paris and Caux, France while in the program. Douglas described her experience with MRA as a "multi-cultural learning experience" in which her "global view of life in the world and the nature of humanness took form." Both during and after her time with MRA, Douglas wrote many personal reflections and letters pertaining to her experience as a participant in MRA and her subsequent reflections on morality, religion, and human nature.
In the 1960s Douglas returned to the United States. She attended the San Francisco Art Institute and graduated with a Bachelor of Fine Arts in 1969. At the same time, Douglas also earned a degree in Educational Psychology from San Francisco State College. Douglas then pursued a Master of Fine Arts in printmaking from the San Francisco Art Institute and graduated in 1971. During her time in school in San Francisco, Douglas participated in the anti-war movement, black rights activism, psychedelia, and the neo-feminist movement. After graduation, Douglas was offered a position in the art department of a midwest university, but chose to return to her family home in Portland, Oregon.
From 1971 through 1984, Douglas dedicated her time to the care of sick family members, including her father, mother Ruth, and sister Barbara. During this time Douglas worked various jobs including as a freelance writer and photographer. Articles and photographs by Douglas were published in several magazines and newspapers including the Oregonian. Douglas was also actively engaged in areas of the arts, community volunteerism, and political, social, and environmental activism. Much of her freelance writing focused on topics related to her social activism including protecting the Oregon coastal environment, feminist and aging issues, the nuclear weapons freeze movement, and LGBTQ issues. In 1986 and 1987 Douglas applied to the Master's in Art Therapy program at Marylhurst College and was admitted in 1987. After graduating she worked for Mental Health Services West in Portland, Oregon. Douglas died in a car accident in 1993 and is buried in Clackamas County, Oregon.
For more information about the Stella Douglas papers and access to this collection, please see the finding aid. This collection was processed thanks to the National Historical Publications and Records Commission (NHPRC) grant Willamette University received to increase accessibility to the Pacific Northwest Artists Archive.