Please join us for the final event in the Spring 2019 Hallie Ford Literary Series at Willamette University, a reading by fiction writer Justin Taylor, plus a celebration of the winners of this year's Frank H. Newell Creative Writing Prizes. The event will take place on Thursday, April 4, at 7:30 p.m. in the Hatfield Room of Willamette's library and is free and open to the public. Books will be for sale courtesy of the Willamette Store.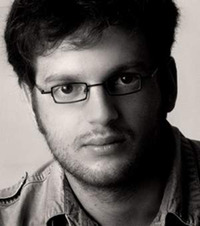 Justin Taylor is the author of two story collections, Flings and Everything Here Is the Best Thing Ever, as well as a novel, The Gospel of Anarchy. His newest book, Riding with the Ghost, will be published in 2020. His stories, essays, and reviews have appeared in some of the most prestigious venues in the nation, including The New Yorker, The New York Times Book Review, Harper's, The Sewanee Review, and n+1. Justin is currently the 2018-19 Mark & Melody Teppola Distinguished Visiting Professor at Willamette, teaching courses in creative writing and English literature, and he serves as the fiction editor of the Literary Review.
Here's how Publisher's Weekly describes Justin's book Flings: "Contemporary, intelligent, and occasionally laugh-out-loud funny. These stories, by turns witty and piercing, together form an uncommon portrait of the human heart."
Read an interview with Justin here: https://fictionwritersreview.com/interview/guided-by-voices-an-interview-with-justin-taylor/
Prior to Justin's reading, we will celebrate the winners of this year's Frank H. Newell Creative Writing Prizes, for which Justin served as a judge. The winners will receive their prizes and read brief excerpts from their winning stories:
First place: Claire Alongi, for "A Selective Investigation of the Causes and Effects of Keraunographic Markings Upon a Teenage Subject (Female)"
Second place: Kevin Alexander, for "The Field Study"
Third place: Emily Korn, for "A Word for Change"
About Frank H. Newell:
Mr. Newell graduated from Willamette University in 1949, and subsequently enjoyed a 58-year run in the newspaper and broadcast business. He got his start at Salem's Capital Journal, where he began in the advertising department. Over the years, he worked his way up through the ranks, and ultimately served as publisher of several news outlets across the nation over his long and successful career. Mr. Newell did not slow down in retirement, however, and at 93, saw his first novel published. He has long had a love for fiction writing, with a particular emphasis on short stories, and wants to foster this interest in future generations of Willamette University students.