Please join us on Friday, March 15th, at 3 p.m. in the Hatfield Room for our eighth Faculty Colloquium of this semester.
Presenter: Leslie Dunlap, Continuing Professor in History

Title: Feminism and the Racial Politics of Protection
Abstract: Rights. Freedom. Choice. Liberation. Consent. These are familiar feminist keywords of the 20th and early 21st centuries. In the late nineteenth century United States one of those keywords was "protection." According to many accounts, 19th-century feminists asserted autonomy and rights by rejecting protection as a code word for patriarchal control. I argue instead that many women mobilized around the concept of protection in order to expose violence and inequality in American homes, politics, and institutions. Protection meant different things to women depending on race, however, and was a point of contestation as well as coalition. In this talk, I excavate the historical roots of the concept of protection in marriage (husbands pledged to protect wives and children), slavery (proponents of slavery argued that enslavers protected those they enslaved), and colonization (missionaries and the US government promised to protect Native Americans).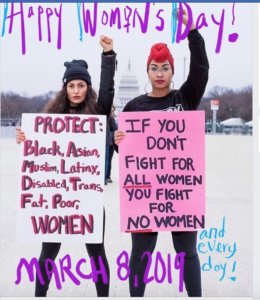 Then I trace women's different use of protection. White women tapped into protection's roots in slavery and the Confederacy, establishing the precedent for 20th century segregationists who organized around the idea of protecting white children and homes against those they cast as federal, foreign, and black invaders. Black women drew on the 14th Amendment and equal protection under the law to demand protection of their homes and families against sexual and racial violence. Native American women turned to treaties to protect their land, families, and sovereignty. My research is on 19th-century social movements, but my interest is now: how do movements today mobilize around protection, and can we see the legacy of earlier movements?
Students are welcome and coffee and treats will be provided. We look forward to seeing you there.
Bill Kelm and Daniel Rouslin
Faculty Colloquium Coordinators