By Jenny Gehringer
PNAA Processing Archivist
The Henk Pander papers are now expanded to include an extensive collection of sketchbooks and journals which document Pander's life and career during the years 1947 to 2014. Drawings within the sketchbooks focus on important events throughout Pander's life including: living in Amsterdam and Haarlem, Holland; ride-alongs with emergency first responders; World War II studies; the Galileo Project with the National Aeronautics and Space Administration (NASA); the demolition of the New Carissa tanker; and set designs and posters for various theaters. Many of the sketchbook drawings are portraits and landscapes, which provide insight into Pander's daily life with his family, friends, and colleagues. The Henk Pander papers also contains correspondence, business papers, notes, artwork, and materials concerning Pander's commissioned works.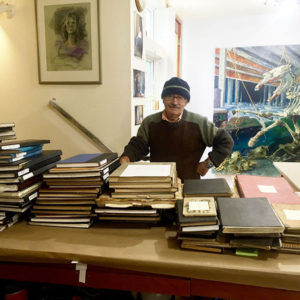 Hendrik Pieter (Henk) Pander was born in Haarlem, Netherlands in 1937. He began painting at the age of 9 and learned early skills and techniques from his father, Jacob (Jaap), who was a painter and illustrator. He studied art at Amsterdam's Rijksacademie van Beeldende Kunsten between 1956 and 1961. While in Amsterdam, Pander was commissioned to create works for the Dutch Government, the Dutch National Railways, and the City of Amsterdam.
In 1965, Pander immigrated to Portland, Oregon, where he currently resides. While in Portland, Pander was commissioned to paint portraits of Governor Tom McCall and Governor John Kitzhaber, documentary paintings for Project Galileo for the National Aeronautics and Space Administration, and murals for the Port of Portland, the Portland Center for the Performing Arts, the Oregon State University Memorial Union, and the Los Angeles County Fire Department.
In addition to his successful art career, Pander was co-founder of the Storefront Theatre in Portland, Oregon in 1970, founded the City of Portland's Visual Chronicle, and served on the Portland Metropolitan Arts Commission and Public Art Advisory Committee. He also designed sets for the Portland Center for the Performing Arts, the Portland Dance Theater, the Oregon Ballet Theater, and the Storefront Theatre.
Pander received many prestigious awards for his amazing work including the Silver Medallion of the Prix de Rome in 1961, the Therese van Duyl-Schwarze Portrait Award in 1964, the first Oregon Arts Commission Master Fellowship in Painting in 1991, the State of Oregon Governor's Award for the Arts in 2005, and the Regional Arts and Cultural Council Visual Artist Fellowship. His works have been exhibited in museums and galleries throughout the United States and the Netherlands including the Portland Art Museum, the Seattle Art Museum, the New England School of Art and Design, the Vakbondsmuseum, and the Museum Henriette Polk.
For more information about the Henk Pander papers and access to this collection, please see the finding aid. This collection was processed thanks to the National Historical Publications and Records Commission (NHPRC) grant Willamette University received to increase accessibility to the Pacific Northwest Artists Archive.