By Jenny Gehringer
PNAA Processing Archivist
The Nicholsloy Studio collection is processed and open to researchers! This amazing collection documents the careers of local Salem artists Sandra and Dave Nichols, who together comprise Nicholsloy Studio. It includes correspondence with artists and writers; original prints and layouts of rebeat, a zine created by Nicholsloy Studio; an extensive collection of zines by other artists; a collection of materials related to the Beat Generation; original art, prints, and mail art by Nicholsloy Studio and other artists; and notebooks.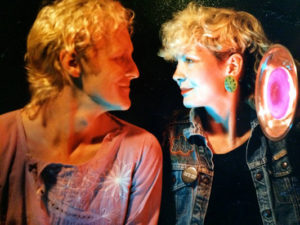 Sandra and Dave met at Chemeketa Community College in the late 1970s when Sandra was a faculty member who taught English and Creative Writing and Dave was a student. Their relationship permeates through their creative process as they often work together to make their art. They create work individually as "nic" and "sloy" and collaboratively as Nicholsloy Studio.
Nicholsloy Studio's work combines found objects, including intricately designed cardboard pieces, and written words or phrases to create imaginative and visually stunning pieces. Sandra is a poetry and poetic-fiction writer who arranges her written work in drawings, paintings, and canvas sculpture. Dave creates recycled cardboard sculptures, games, jewelry, musical instruments, and puzzles as well as oil paintings and colored pencil drawings. As artists, videographers, and collectors of art and zines, they are key figures in Salem, Oregon's underground art scene.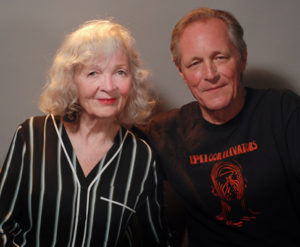 Sandra and Dave have been featured in individual and group exhibitions in Oregon and Washington, including the Bush Barn Art Center, Chemeketa Community College Art Gallery, the Mary Lou Zeek Gallery, and the Hallie Ford Museum of Art at Willamette University in Salem, Oregon. Their works can be found in public and private collections throughout the United States, including the Sackner Archive of Concrete and Visual Poetry in Miami, Florida.
For more information about the Nicholsloy Studio collection and access to this collection, please see the finding aid. This collection was processed thanks to the National Historical Publications and Records Commission (NHPRC) grant Willamette University received to increase accessibility to the Pacific Northwest Artists Archive.