Please join us Friday, January 25, at 3 p.m. in Fine Arts West 133 for our first Faculty Colloquium of this semester.
Presenter: Hector Aguero, Assistant Professor of Music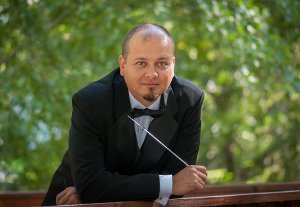 Title: Maestro for a Semester
Abstract: During his pre-tenure research leave, Professor Héctor Agüero furthered his professional development agenda and fostered his artistic growth by accepting guest conducting invitations from the New Jersey Youth Symphony, the Elkhart County Youth Symphony (Indiana), and the Goshen College Symphony and All-Campus Band. He was also chosen, through a competitive application process, to participate in the 15th Annual International Conductors Workshop and Competition. Agüero was ultimately chosen as the top winner for this international competition and is now able to add this honor to his growing list of professional accomplishments. Agüero discusses these and other musical activities pursued during his leave semester.
Students are welcome and coffee and treats will be provided. We look forward to seeing you there.
Bill Kelm and Daniel Rouslin
Faculty Colloquium Coordinators