In 2005 seven artists came together to open an art gallery in Portland, Oregon named 12×16 after its first location on 1216 SE Division Street. Its inaugural show consisted of a smattering of collage, photography, mixed media, and paintings from its seven artists: Cary Doucette, Eunice Parsons, Luke Dolkas, Maureen Herndon, Israel Hughes, Lee Ann Slawson, and Edward Story. 12×16 Gallery would go on for twelve more years, hosting a number of shows each month and eventually expanding to a larger space in the historic southeast Portland district of Sellwood. It featured the works of its gallery members as well as artwork from guest artists from across the Pacific Northwest area.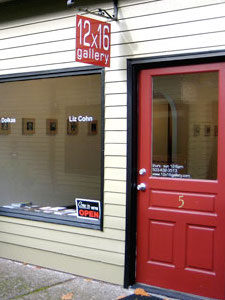 Known for its modest and reasonable prices, the collective gallery would become a launching pad for young collectors and space for local artists to help one another. After these successful contributions, the 12×16 Gallery's last show was in December 2017, closing that same year.
The 12×16 Gallery records cover the years 1997 through 2018 and feature promotional postcards and brochures, Myron Filene's documentary photographs of the gallery, and an archived version of the website. The collection contains the 12×16 Gallery's administrative files such as insurance and lease information, business registration forms, meeting notes, price lists, and artist statements from exhibitions. Also included are folders on specific artists, such as Cary Doucette, Serena Barton, Israel Hughes, Ray Keller, Beate Scheller, and others. The rest of the collection consists of a scrapbook with newspaper clippings and 12×16 Gallery promotional postcards and brochures, employee log books from December 2005 to December 2017, and the gallery visitors' books from December 2005 to December 2017.
The 12×16 Gallery records were processed by Ivy Major-McDowall '18. A special thank you to Sybil Westenhouse for investing in experiential learning through the Sybil Westenhouse Archives Excellence Fund.
For more information on the 12×16 Gallery and its records, please see the finding aid.