By Clara Sims, Archives and History Department Intern, Fall 2017
What distinguishes a religion from a cult? The line between the two is both contested and blurry, and to answer this question more often than not is to identify who is doing the labeling and what interests of political legitimacy does such labeling serve.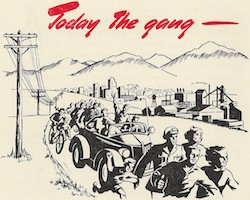 A little known religious movement of the World War II era, Moral Re-Armament, is one such movement that walked the line between being perceived as religiously legitimate or controversial and cult-like. It was an international and non-denominational spiritual movement that gained considerable popularity in the United States, as people hoped to prevent horrors of international conflict like those experienced in the first half of the century. Moral Re-Armament strove to inspire a civilization-wide moral revolution with the belief that the seeds of war lie first and foremost in the hearts of men. For over a decade MRA embarked on an energetic journey, made up primarily of young volunteers, to spread its message of absolute morality through original musical plays that travelled across the United States and Western Europe. These plays highlighted how to build relationships of understanding and unity between historically conflicting groups, ranging from the infighting of the family unit to bridging divides between labor and management.
After the unprecedented atrocities of World War II, it is not hard to imagine why the participants of MRA would come to the conclusion that society was in desperate need of a moral re-awakening. Its plays were filled with urgent calls to patriotism and for Americans everywhere to "Wake up!" and come together "or hate and greed will pull the country apart!" Yet the controversial practices of MRA often highlighted in its coverage, such as public confessions, meant that MRA was often cast in a light of religious extremism. But is it fair or useful to remember MRA or its followers in this way?
In the firsthand accounts of Stella Douglas, a young woman who spent eleven years as a full-time volunteer with MRA, it becomes clear that generalizations about MRA – what it was and its effectiveness – are inadequate in the face of her lived experience. Stella proves in her reflections about MRA to be far from an adherent of "blind faith" or religious extremism.
Rather, in various moments throughout her reflections on MRA, she was not afraid to critique and renounce aspects of MRA even as she defended the movement as a whole. The complexity of engagement in Stella's reflections on MRA suggest the nature of religious identity is full of conflicts, contradictions, and convictions that go far beyond the reductionist label of  "extremist" or "cult".
In her writings Stella never abandoned the conviction that a moral revolution was necessary. It is clear that she, along with many of her generation, felt deep unease about the declining morality of western civilization – which she described as selfishness and "dangerous disengagement from the pain of other men." However, Stella questioned the usefulness of a religious-based morality to accomplish the task of inspiring the empathy and selflessness among men that would lead society towards unity, peace, and tolerance. The daily practice of listening to the voice of God was one of the central practices of MRA, but Stella believed that God was not necessary to alert men to the moral truths of human dignity and respect. Though Stella certainly never went so far as to associate MRA with a cult, she feared that such religious emphasis had the potential to slip too easily toward dogma and away from the diversity and tolerance championed at the heart of MRA's original vision.
Her questions about religion and God ultimately led Stella away from MRA and toward civil rights activism later in life. Nevertheless, she found immense value in the fact that MRA was grappling with solutions to these timeless questions of nature and morality, even as she herself outgrew its tenets and practices. For Stella, MRA had the potential to be a powerful and positive force for change if it had only been able to hold fast to its principles and not succumb to the safeness of conformity. Instead of naming names and "rocking the ship of the state," MRA soon became focused on its own prestige and popularity, only providing people easy, inoffensive but false answers to the moral crisis of civilization. In this way MRA became exclusive and ineffective to Stella but never crossed the line into religious extremism or cult-like behavior.
MRA, which disbanded in the mid 1960s, may not have ultimately succeeded in changing the world, but its impact remained in the beliefs that informed the lives of its followers.  Stella carried forward into the rest of her life, as she became an artist, activist, and caretaker, the questions that MRA inspired. Stella continued to defend the MRA community, advocating that no one should be pigeon holed as "typecast models of unquestioning faith." Rather she believed MRA's community, as in all religious movements, were full of highly diverse and complex individuals whose commitment to a moral ideology "did not preserve them from inner conflict." Stella's open-minded and constant search to understand and give credit to the complexity of MRA, and the positive goals it maintained, provides an example of how our identities, whether they be religious or political, cannot and should not be simplified. In our own time of extreme divisiveness, we would do well to look behind labels used to stereotype groups such as "cult" and "extremist," as they are all too often misapplied.
Citation: Sack, Daniel. Moral re-armament: the reinventions of an American religious movement. Springer, 2009, 123.