Eunice Parsons was born in 1916 in Loma, Colorado but spent most of her young life in Chicago. When she was a young girl, she attended children's classes at the University of Chicago where she learned an appreciation for art, as well as the skills that would allow her to pursue a career in the field later in life. After graduating high school, Parsons attended a few art classes from the University of Chicago. Soon after, Parsons married and moved to Portland along with her new husband. She spent the next two decades as a working mother. In the 1940s she began taking classes at the Portland Museum Art School. Shortly after, in 1957, she took a trip to New York to acquaint and immerse herself in the culture of art. Parsons took a sketchbook where she made exhaustive notes and depicted many landscapes. This notebook showcases her earliest inclinations in playing with color, line, and shading, all developing into a unique and distinctive style. After returning from New York, Parsons continued her career as an artist and eventually began teaching at the Portland Museum Art School. While teaching, she became notorious as a blunt but brilliant instructor and would lead numerous student trips to Europe and the birthplaces of western art. In 2006 Parsons, along with others, was instrumental in opening the 12×16 Gallery in Portland. In 2017 she continues to be an influential and prolific artist at the age of 100.
The Eunice Parsons papers encompass not only Eunice Parsons' long and influential career as a Portland artist, but also the inner workings of the Portland art community from the early 1950s through to the present day. It contains Parsons' manuscripts from her endeavors as an author, fliers from a variety of Portland artists, photographs and slides from her teaching career, samples of her art and sketchbooks, professional papers, and a great wealth of correspondence in the form of Christmas cards from many of the most famous Portland artists.
For additional information about this collection, visit:
http://libmedia.willamette.edu/cview/archives.html#!doc:page:eads/5012
Also, view the online exhibit of a few selected sketch books: exhibit by the same intern who processed her collection:
http://libmedia.willamette.edu/archives/omeka/exhibits/show/matriarchofmodernism/introduction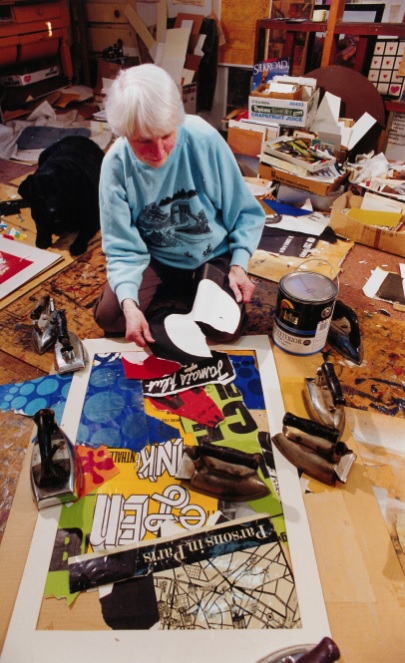 Note: The Eunice Parsons papers were processed and the exhibition created by McKelvey Mandigo-Stoba, Willamette University '17. A special thank you to Sybil Westenhouse for investing in experiential learning through the Sybil Westenhouse Archives Excellence Fund.