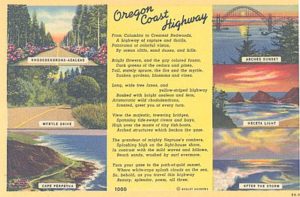 The Oregon Coast is filled with unexpected history. Prior to World War I, most of the Oregon coast was inaccessible. As a response to World War I and perceived need for emergency preparedness, the concept of the Roosevelt Coast Military Highway was created and named in honor of President Theodore Roosevelt.
In 1919, Oregon voters approved the sale of $2.5 million in bonds for the project, but matching federal funds failed to materialize. But Oregonians still wanted access to the coasts, so the Oregon's Highway Department began work on 400 miles worth of road, bridges, and tunnels in 1921 and continued through the 1920s & 30s. The road became U.S. 101 in 1926 and then renamed in 1931 as the Oregon Coast Highway.
This is also the 50th anniversary of Oregon's Beach Bill which was signed into law on July 6, 1967 to safeguard beaches from development.  Our beloved coast could look much different had the bill failed and a few private developers won. Thankfully as Oregonians began to hear what they stood to lose, the trickle of public support turned into a tidal wave.  After months of  battle, the bill was signed into law.  And the rest is history.  Your experience of our wonderful Oregon Coast line and access to the miles of beach that people around the world come to visit is a direct result from this important legislative bill.  Know that our beautiful beach is for the public to treasure and protect.  Forever!
Below are just a few of the dozens of images from the Oregon Encyclopedia that describe the history of Highway 101, the Oregon Coast Highway (https://oregonencyclopedia.org/articles/highway_101_oregon_coast_highway_/#.WWOvVojyuUk).  The following link also goes to a page of activities and events connected to the Oregon's Beach Bill (http://visittheoregoncoast.com/oregon-beach-bill-50th-anniversary-celebration).