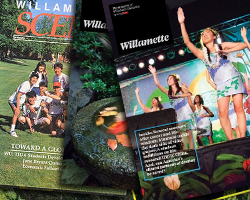 The Willamette University Alumni Publication collection comes from the University Archives & Records collection area, which contains publications, images, administrative records, research materials, and scrapbooks dating from Willamette's beginnings.
It includes the Willamette University Bulletin (1919); The Willamette Alumni Magazine (1922-1923); The Willamette Alumni Bulletin (June, 1925); The Willamette University Alumnus (1926-1970); The Willamette Scene (April 1967 – Spring 2014); The Willamette Magazine (Fall 2014 – Summer 2016)
Also available are materials relating to Freshman Glee, one of Willamette's longest running – and most beloved – traditions. This collection can be browsed or searched.