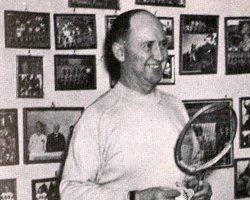 The Lestle Sparks Willamette Student World War II Correspondence collection contains letters written to and from Willamette students serving in the U.S. Armed Forces. In general, the students thanked Sparks for college newspapers sent by the athletic department and recounted their efforts to exercise and play their favorite sports while in the service. Often students were unable to indicate their current location or assignment, however, some letters contain candid depictions of military life.
Lestle J. Sparks was born on May 3, 1897 in Seaz, Arkansas. Sparks was associated with Willamette University for 64 years spanning his enrollment in 1915 to his death in 1979. Sparks graduated from Willamette in 1919 with a degree in Chemistry. Shortly after graduation he began teaching at Coquille High School near Bandon, Oregon. In 1921 Sparks returned to Salem and taught Chemistry and Physical Education at Salem High School.
In 1923 Sparks was offered a full-time teaching position with Willamette University. Sparks began as an Assistant Professor of Physical Education and was soon promoted to Associate Professor, eventually Sparks became Head of the Physical Education Department. At various times throughout his career, Sparks served as head coach of the football, basketball, track and tennis teams. Although he retired as a member of Willamette's faculty in 1962, Sparks continued coaching tennis until 1974. Sparks died at the age of 82 in 1979.
Upon Sparks' death, his wife, Marion Linn Sparks '22 and his daughter, Marion Sparks DaBoll '51 found an unlabeled box in his office containing correspondence. Unknown to his family, these letters were sent to and from Willamette students serving in the U.S. armed forces during World War II.
To view this collection visit:
http://libmedia.willamette.edu/cview/archives.html#!doc:page:eads/4884