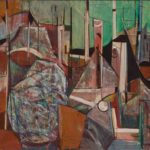 January 21 – March 26, 2017
Melvin Henderson-Rubio Gallery
The Mark O. Hatfield Library will exhibit a few Modernism art works created by Portland artist Louis Bunce through March 26th, 2017.  Also included in this exhibit are a collection of books from our stacks on the topic of Modernism in the arts, all of which are available to check out.
(From the Hallie Ford Museum of Art's blog post…)
The Hallie Ford Museum of Art is pleased to present a major retrospective exhibition for Louis Bunce (1907-1983), a legendary Portland painter, printmaker, and teacher who taught at the Museum Art School from 1946 to 1972 and who influenced several generations of Oregon artists. Organized by Professor Emeritus of Art History and Senior Faculty Curator Roger Hull, the exhibition will chronicle the artist's career over a 57 year period and features 49 paintings drawn from public and private collections throughout the United States.
Hull says, "Bunce was Oregon's archetypal modern artist of the mid-twentieth century. 'Louie,' as he was called, was ambitious, gregarious, fun-loving, women-loving, antic and outrageous. He was deadly serious when it came to art-making and engaged with it all: Cubism, Surrealism, Abstract Expressionism, Post-Modernism, and at the end of his life almost operatic Romanticism."
Born in Wyoming, Bunce moved with his family to Oregon in his youth, studied at the Museum Art School for a year, and moved to New York in the late 1920s to study at the Art Students League. At the League, he met Jackson Pollock, another Wyoming native, and they established an on-going friendship that lasted until Pollock's death. In fact, it was Bunce who introduced Pollock to artist Lee Krasner, who would eventually become Pollock's wife. Although Bunce returned to Portland, Oregon, he maintained strong ties with many other notable artists of the New York School throughout his career.
As a painter and printmaker, Bunce was a rising star in American art of the 1940s and 1950s. In painting, his WPA work from the 1930s gave way to inventive Surrealist forms in the 1940s, to nature-based abstract expressionist work in the 1950s and 1960s. He and his work were featured in a full-color article in Life magazine in 1957, and he was represented in New York by the John Heller Gallery and the Doris Meltzer Gallery. In the 1970s, he experimented with hard-edge geometric compositions and Pop-related imagery while his last works feature light-saturated seascapes.