Dear Colleagues,
Please join us this Friday, April 15th at 3 pm. in the Hatfield Room for our ninth Faculty Colloquium of this semester. Treats will be provided.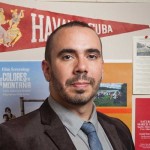 Roy Perez, Assistant Professor of English and American Ethnic Studies
Title: La Maldad de Martin Wong: Approximating Nuyorico
Abstract: Nicknamed "Chino Malo," gay Chinese-American painter and art collector Martin Wong lived in Manhattan's Lower East Side in the 1980s, where he circulated among and collaborated with a number of Puerto Rican artists and writers. In this talk, I explore how Wong's proximity to Nuyorican (Puerto Rican New York) culture appears in and shapes his paintings. I also examine Martin Wong's presence as a queer Asian American painter in the popular history of Latina/o arts and culture. Often depicting men of color in erotic positions and encounters, Wong's paintings lurk on the margin of accepted Latino art history, challenging typical representations of Latino masculinity. What happens when we move Wong to the center of Latino art and cultural history? What does Wong's vision of Nuyorico reveal to us about its people, landscape, and culture? I contend that Wong's visual poetics enact a series of queer advances that unsettle Nuyorico's "good" center. Mal movement or comportment—to defer fear of committing maldades and willfully do things badly, wrongly, or approximately—loosens racial identity practices from their toil toward completion and full knowing.
Please feel free to invite students to attend this talk.
We look forward to seeing you there.
Doreen Simonsen and Bobby Brewer-Wallin
Faculty Colloquium Coordinators