Dear Colleagues,
Please join us this Friday, March 11th at 3 pm. in the Hatfield Room for our sixth Faculty Colloquium of this semester. Treats will be provided.
Melissa Marks, Assistant Professor of Biology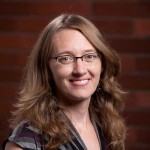 Title: Bacteria Get Sick, Too: The Influence of Cell Surface Structure on Bacterial Avoidance of Viral Infection
Abstract:
All living things encounter challenges that can affect their survival and persistence in the environment. For bacteria, a significant source of this stress comes in the form of lethal bacteriophage (viral) infection. Because bacteriophage in the environment greatly outnumber bacteria, these infections present a significant threat to survival for bacterial cells and populations. In the freshwater bacterium Caulobacter crescentus, production of complex external polysaccharides (EPS) obscures the physical phage binding sites and prevents phage attachment and infection. In this talk I will discuss the approaches my students and I used to identify several genes required for biosynthesis of the EPS and to measure how the presence of EPS allows cells to evade phage attack.
Please feel free to invite students to attend this talk.
We look forward to seeing you there.
Doreen Simonsen and Bobby Brewer-Wallin
Faculty Colloquium Coordinators
PS: Our next presentation will be on Friday, April 1st