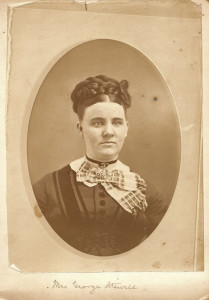 Janette McCalley was born in Kirkcaldy, Scotland on January 29, 1847. She came to America with her parents in 1851 and the family moved to Salem, Oregon in 1859. Janette McCalley graduated from Willamette University with a B.S. in 1865 and taught for a time in the Preparatory Course at Willamette University. She married George Stowell on February 20, 1870 in Springfield, Oregon. She and George had four children.
By 1888, the Stowell family had moved to Corbett Street in Portland, Oregon. In January, 1890, Janette Stowell began a diary which she kept, in an irregular fashion, until 1906. She died on February 4, 1916, and was survived by her husband, and three of her four children.
Collection Description
Janette McCalley Stowell's journal retains original order.  It can be viewed at:
http://libmedia.willamette.edu/cview/archives.html#!doc:page:manuscripts/2744/cpd/0/75/0
Janette Stowell was a graduate of Willamette University and a member of the teaching staff at that university before her marriage. Her diary details her family's life at the end of the nineteenth century and the beginning of the twentieth in Portland, Oregon and Sitka, Alaska. She writes of keeping a garden and growing flowers, caring for her children, entertaining friends, going to church and her involvement in a branch of the Chautauqua Institute.
In February of 1890 the Portland area experienced a damaging flood which covered Ross Island and washed away many buildings and homes. Mrs. Stowell describes walking to where the family could see the flood waters covering Ross Island and watching debris pile up at the Ross Island Bridge.
In the late 1890s she joined a reading club and was more involved in growing roses. By 1900, after a break in the diary of two years, she reports the family is in Sitka, Alaska where her husband is working. The final entry in the diary is for August 25, 1906.