Dear Colleagues,
Please join us this Friday, February 5th at 3 pm. in the Hatfield Room for our second Faculty Colloquium of this semester. Treats will be provided.
Burt Thomas, Research Assistant Professor in the Department of Environmental and Earth Science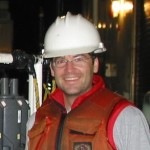 Title: Geologic Carbon Storage: A Climate Salve with Some Nasty Side Effects
Abstract:
Geological Carbon Storage (GCS) is the world's best hope of mitigating carbon dioxide emissions over the next few decades as global economies transition away from fossil energy sources. GCS refers to a variety of strategies that involve capturing carbon dioxide before it is released into the atmosphere and permanently storing it in geological reservoirs. Over the next 100 years, the lion's share of carbon mitigation is expected to involve industrial scale GCS. Industrial methods are based primarily on the lessons-learned and expertise of the US oil industry that has routinely used carbon dioxide injection to enhance oil recovery in depleted oilfields. I will discuss the risks and consequences of our Nation's oil-dependent GCS trajectory and argue for the need for municipal-based low-risk storage options.
Please feel free to invite students to attend this talk.
We look forward to seeing you there.
Doreen Simonsen and Bobby Brewer-Wallin
Faculty Colloquium Coordinators