By Doreen Simonsen
Humanities & Fine Arts Librarian, dsimonse@willamette.edu
Thanks to Shonda Rhimes' hit Netflix series, Bridgerton, Queen Charlotte (1744-1818), wife of King Georges III of England (1738 – 1820), and her court have been given new life in the public imagination. In the library's vault, we have three works by women authors who served in and wrote about this world, and inspired other authors and composers.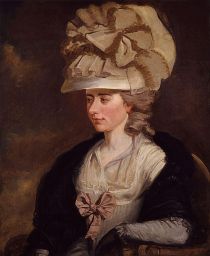 Jane Austen (1775 – 1817) was born in Steventon, England in 1775 during the reign of King George III and his wife, Queen Charlotte. It was in the court of Queen Charlotte that one of Jane's favorite authors, Fanny Burney (1752 – 1840), served from 1786 to 1790 as "Keeper of the Robes" for the queen. After leaving Queen Charlotte's court, Burney decided to publish her third novel, Camilla, by subscription in 1796, and it is in this book that Jane Austen's name appears in print for the first time. In our library's copy of Camilla you can see "Miss J. Austen, Steventon" in the list of subscribers. Austen also mentions Camilla as one of the romantic novels, which the heroine of Austen's first novel, Northanger Abbey, Catherine Morland, reads for thrills and escapism.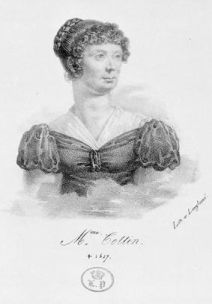 Fanny Burney's stepsister, Elizabeth Meeke, (1761 – 1826), was also an author, — and a translator. (MacDonald. Mandel.) One of her translations that is in our collection is Elizabeth; or, the Exiles of Siberia, by the French author, Sophie Cottin. (1770 – 1807) Cottin's family were supporters of the French monarchy, which forced them to flee to England during the French Revolution. Sophie returned to Paris in 1798, published six novels, of which Elizabeth (1806) was her last before she died of cancer in 1807. Elizabeth; or, the Exiles of Siberia was widely translated and published throughout the 19th century. (Cutt) Our copy was published in New York in 1812. This book was so popular that Gaetano Donizetti based an opera in three acts upon it in 1820 and titled it Otto mesi in due ore ossia Gli esiliati in Siberia (Eight Months in Two Hours or the Exiles in Siberia).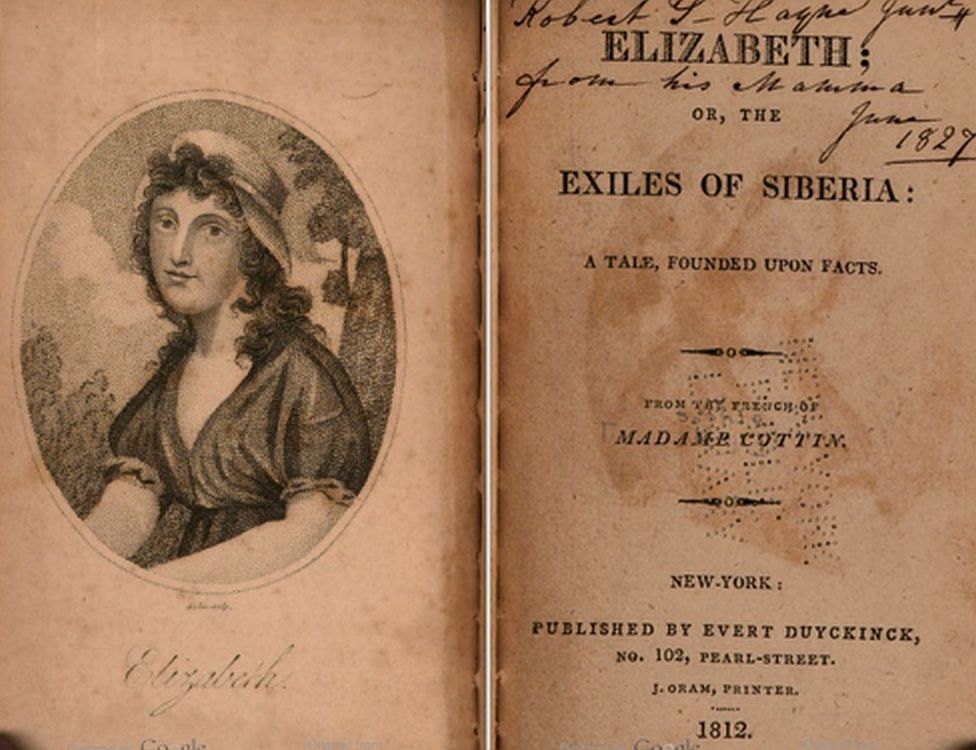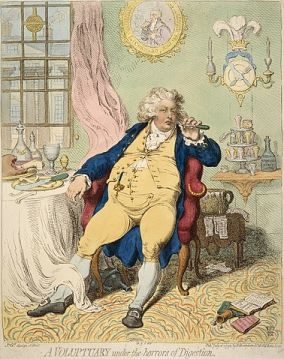 Both Camilla and Elizabeth: or, the Exiles of Siberia were published during the reign of King George III, who suffered increasingly from mental illness. Eventually his reprobate son, Prince George, took on the role of Regent, which gave rise to the Regency Era that lasted from 1811 until the death of his father in 1820, when he became King George IV. Jane Austen was no fan of George IV, but he was a great fan of her novels. Recently a bill of sale from 1811 was found in the Royal Archives, which was "from a London bookseller, charging the Prince Regent 15 shillings for a copy of Sense and Sensibility, Austen's first novel." (Schuessler) To understand Austen's distaste for the Prince Regent, one should look at a third book in our collection.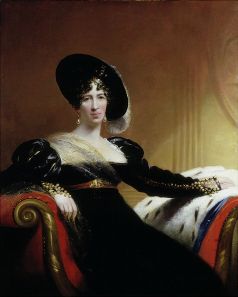 The Secret History of the Court of England from the Accession of George the Third until the Death of George the Fourth (1832), was allegedly written by Lady Anne Hamilton (1766 – 1846), who was a loyal Lady-in-Waiting to Queen Caroline of Brunswick, the unhappy wife of George IV. According to the Dictionary of National Biography: "A person who had gained the confidence of Lady Anne and obtained from her a variety of private information, published, without her knowledge and much to her regret and indignation, a volume purporting to be written by her, entitled Secret History of the Court of England from the Accession of George III to the Death of George IV." The book created such a scandal that the publisher was forced to flee England.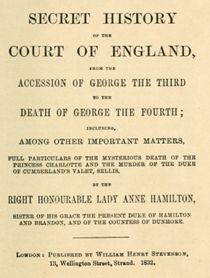 In a letter from 1813, Jane Austen wrote of Queen Caroline: "Poor woman, I shall support her as long as I can, because she is a Woman and because I hate her Husband." (Robins, p. 42). Two years later, Austen was invited to the Prince Regent's library, where his "librarian, James Stanier Clarke, conveyed that the Prince Regent (who was not present) would not object if she dedicated her next book to him." (Schuessler). Austen worked with the publisher to create this tepid dedication in her novel Emma: "To his Royal Highness, the Prince Regent, this work is, by His Royal Highness's Permission, most Respectfully Dedicated by his Royal Highness's Dutiful and Obedient Humble Servant, the Author."
Just as the world is currently reading Spare, the memoir by Prince Harry, Duke of Sussex, to discover the secrets of the most recent royal family, disclosing royal secrets is nothing new. Having worked for the Royal families, both Fanny Burney and Lady Ann Hamilton, could have shared similar tales of scandal. Similarly Fanny Burney and Sophie Cottin created tales depicting the emotional ups and downs of Romanticism, that were wildly popular in the 19th century, but did not reflect life in the royal courts. You can read these books online by following the links in this article, but you are welcome to come see our copies of all of these works in the Hatfield Library. If you would like to look at them in person, please contact Doreen Simonsen, dsimonse@willamette.edu to make an appointment.
Bibliography
Austen, Jane, 1775-1817. Emma: A Novel : In Three Volumes. London: Printed for John Murray, 1816.
Burney, Fanny, and Thomas Payne. Camilla, or, A Picture of Youth. [First edition]. London: Printed for T. Payne, at the Mews Gate, and T. Cadell Jun. and W. Davies successors to Mr. Cadell in the Strand, 1796.
Cottin, (Sophie), Evert Duyckinck, and James Oram. Elizabeth, or, The Exiles of Siberia. A Tale, Founded Upon Facts. New-York: Published by Evert Duyckinck, 1812.
Cutt, M Nancy. "Who Remembers 'Elizabeth'?" Signal: Approaches to Children's Books Vol. 39, (Sep 1, 1982): 153-162.
Hamilton, Anne. Secret History of the Court of England  from the Accession of George the Third to the Death of George the Fourth. London: Reynold's Newspaper Office, 1832.
"Hamilton, Lady Ann." The Dictionary of National Biography : from the Earliest Times to 1900. London: Oxford University Press, 1921. Vol. 8, p. 1019.
Harry. Spare. First US edition., Random House, 2023.
MacDonald, Simon. "Identifying Mrs Meeke: Another Burney Family Novelist." The Review of English Studies (2013): 367-385.
Mandal, Anthony. "Mrs. Meeke and Minerva: The Mystery of the Marketplace." Eighteenth-Century Life 42.2 (2018): 131-151.
Robins, Jane. Rebel Queen: How the Trial of Caroline Brought England to the Brink of Revolution. London: Pocket, 2007.
Schuessler, Jennifer. "Jane Austen Detested Her First Buyer, the Prince: [the Arts/Cultural Desk]." New York Times, Late Edition (East Coast) ed., Jul 25 2018, ProQuest. Web. 15 Dec. 2022.