Limited Edition books are a melding of fine literature and the art of fine printing.  Four books in our vault are lovely examples of an author's and a publisher's joint enthusiasm for a unique presentation of a text.
"A limited edition book is one where the number of copies in the print run has been strictly defined prior to its issue, and that number is substantially less than a standard print run, and then no further print runs are issued after the first printing has sold out… [These] books may also contain additional features such as better quality paper, extra illustrations, author signatures, different cover art, etc." ("Limited Edition Books").
"Gwilan's Harp" is a story by Ursula Le Guin that was published by the Lord John Press in Northridge, California in 1981.  In the back of this book, you will find a page with a limitation statement, which in this case states that this book is number 298 of 300 copies printed.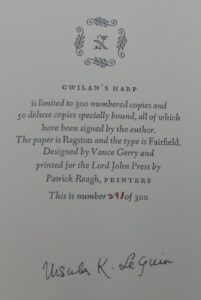 Details about the paper used for printing this book, what type font was used, who designed the book, who printed the book, and who published the book may be listed.  In addition, the author's autograph may be found on this page, too.
Herb Jellen of Boston, an avid collector of autographs and first editions, started the Lord John Press, which published Le Guin's story.  From 1976-2006 Jellen published limited editions in printing runs of 150 or 300 copies, that were signed by the authors.  The name "Lord John Press" came from Jellen's "love of [the] authors: John Barth, John Cheever, John Fowles, John Gardner, John Hawkes and John Updike. "Lord" is said to have come from his desire "to marry" Great Britain and America."
Sometimes these texts travel widely before being published as a limited edition book, such as Place in Fiction, an essay by Eudora Welty.  Originally, it was a lecture she presented at Cambridge University in 1954, and was then published in The Archive (Duke University) in April 1955, the South Atlantic Quarterly in January 1956, and elsewhere.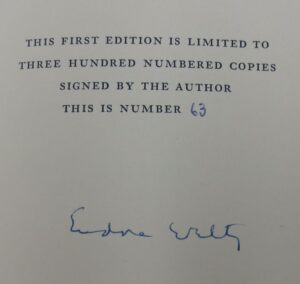 Mrs. Marguerite Cohn heard Miss Welty read the essay on the Poetry Series of the Young Man's Hebrew Association in New York and asked the author for permission to publish her essay as a limited edition book by her company, the House of Books, in 1957.  This is the edition that we have in our collection, which is number 63 of 300 copies printed.
In Dallas, Texas, Hank Coleman founded Pressworks, a small literary fine press publishing company. When Anne Dickson purchased Pressworks in 1981, she inherited short works and poetry by such famous authors as Robert Penn Warren, Joyce Carol Oates, and Donald Barthelme.
We own a copy of Barthelme's work, Presents, (1980).  Its text consists of numerous brief sketches, most of which involve two naked women, and has four plates of collages done by the author. Our copy is number 150 out of 350 copies printed for sale.
Finally, we have a book of poetry by Oregon's former Poet Laureate, William Stafford.  His book, You and Some Other Characters (1989) was illustrated by his daughter Barbara Stafford and published by Donnell Hunter of the Honeybrook Press.  Hunter was a prolific and significant Mormon poet, who ran the Honeybrook Press in Rexburg, Idaho.  Our copy of Stafford's You and Some Other Characters, is one of 328 copies, but it is not numbered nor autographed by the author.  What makes this book special is that it was "designed & printed letterpress on Lana Laid paper by Donnell Hunter with hand-set Deepdene type & hand-sewn in Fabriano covers."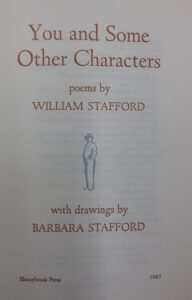 The loving workmanship of hand-set type on fine paper makes Hunter's physical copy of Stafford's poetry a tactile pleasure that complements Stafford's words.
Limited Edition fine press books are works of art created jointly by the author and the publisher / printer.  Although these four books are recent publications, their scarcity and / or artistic nature classifies them as rare books, worthy of being shelved next to Shakespeare's Second Folio, Medieval Books of Hours, and other treasures in the vault at the Mark O. Hatfield Library.  If you would like to see them for yourself, please contact Doreen Simonsen, dsimonse@willamette.edu
Bibliography
Barthelme, Donald. Presents. Pressworks, 1980.
Berryhill, Michael. "Booking Dallas." D Magazine, January 1, 1982, https://www.dmagazine.com/publications/d-magazine/1982/january/booking-dallas/.
Book of the Week — Turkeys and Trees | J. Willard Marriott Library Blog. 19 Nov. 2018, https://blog.lib.utah.edu/book-of-the-week-turkeys-and-trees/.
Davis, Mary Margaret. "Ex-El Pasoan Binds 'Fine' Books." El Paso Times, 29 Aug. 1982, p. 71.
Dickson, Anne. "Letters." D Magazine, March 1, 1982, https://www.dmagazine.com/publications/d-magazine/1982/march/letters/.
Donnell Hunter | Mormon Literature & Creative Arts Database | HBLL. https://mormonarts.lib.byu.edu/people/donnell-hunter/.
It Came from Beyond Pulp. Ursula K. Le Guin Reads "Gwilan's Harp." 2021. YouTube, https://www.youtube.com/watch?v=PzqjHIEE_vI.
Le Guin, Ursula K. Gwilan's Harp. Lord John Press, 1981.
"Limited Edition Books." AbeBooks, 3 June 2021, https://www.abebooks.com/books/rarebooks/collecting-guide/what_books_collect/limited-editions.shtml
"Lord John Press." Worlds Without End, https://www.worldswithoutend.com/publisher.asp?ID=535 .
Newman, Lisa. "Collector Established Lord John Press." The Clarion-Ledger, 20 Jun. 2015. https://www.clarionledger.com/story/life/2015/06/20/collector-established-lord-john-press/29040303/.
Polk, Noel. "A Eudora Welty Checklist." The Mississippi Quarterly, vol. 26, no. 4, 1973, pp. 663–93.
Stafford, William. You and Some Other Characters: Poems. Honeybrook Press, 1987.
"The House-of-Books Edition of 'Place in Fiction.'" Eudora Welty Newsletter, vol. 1, no. 1, 1977, pp. 5–5.
Welty, Eudora. Place in Fiction. House of Books, 1957.