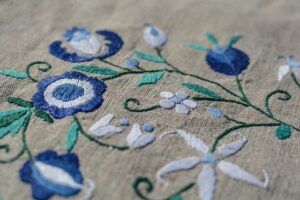 The art of embroidery has been around for centuries and spans most cultures around the world. Taking needle and thread to fabric or other materials to create beautiful scenes or patterns, embroidery is both challenging and gratifying.  The variety of stitches, techniques, and colors, adds to the complexity and richness of embroidery.  Through the ages, embroidery has been used to decorate ceremonial attire, religious objects, household objects, book bindings, wall hangings, pillow cases, denim work shirts, and much more. Machine embroidery emerged during the Industrial Revolution and now embroidery appears on items such as polo shirts and baseball hats.  Hand embroidery remains a vital part of society and like sourdough bread baking, stitching has become increasingly popular during the pandemic. February is designated as National Embroidery Month; join us in celebration by checking out one of these embroidery-related titles from our collection listed on our WU Reads Reading Guide.
Take your needle, my child, and work at your pattern; it will come out a rose by and by. Life is like that – one stitch at a time taken patiently and the pattern will come out all right like the embroidery.
—Oliver Wendell Holmes, Sr.