By Maggie Froelich, Theology Librarian mfroelich@willamette.edu
The affiliation between Willamette University and the Claremont School of Theology continues to move forward, with many CST students, faculty, and staff now located here in Salem.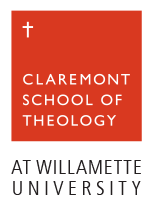 The uniting of our two institutions means a sharing of resources, and that's true in the library, too. Two major benefits to the WU community are a greatly expanded collection of books related to religion, philosophy, ethics, and ministry; and a dedicated Theology Librarian.
First, let me introduce myself. This summer I joined the library's Public Services team as the Theology Librarian. I have a PhD in New Testament and Christian Origins, earned at CST. In my academic research I like to read our earliest Christian sources through historical Greco-Roman perspectives. My dissertation analyzed the Gospel of Mark as a response to war and defeat, and lately I've been getting really into the ways that the earliest Greek and Roman adherents to Jesus worship might have understood their new devotions. My latest article, "Sacrificed Meat in Corinth and Jesus Worship as a Cult among Cults," is forthcoming from the Journal of Early Christian History
As a member of the library's Public Services Division, I officially serve as the liaison librarian to the CST community and will soon begin serving the Religious Studies department, as well. No matter what department you're in, if you're interested in ancient Mediterranean history, classical literature, European and Near Eastern polytheism, the Bible, ancient Greek language, any aspect of religious studies, or Netflix'sThe Witcher, I want to talk to you.
But what about the books? As part of CST's move to Salem, 50,000 volumes from the CST library collection came up here to Hatfield. That collection includes reference works, works by current and past CST faculty, works in Korean, and the collection of the Center for Process Studies, a Claremont faculty institute dedicated to process philosophy and theology. The CST library was southern California's premier theology library, and the most important books from its collection are now at Willamette, where students, scholars, and ministers can research academic and professional topics in Judaism, Christianity, Islam, and more. You can find the Claremont collection on the first floor of the Hatfield library.
I'll continue to post here in coming months, highlighting some of the distinctive and interesting features of the Claremont collection, and a great place to start is the reference section. Here are some of the unique reference materials now available to the entire Willamette community: