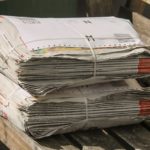 Some common questions that librarians receive at the reference desk revolve around newspapers.  Does the library have this newspaper?  How far back does your subscription go?  How do you use the microfilm machine to read old newspapers?
Before the Internet, most libraries subscribed to newspapers that were mailed to their campuses through the U.S. Postal Service.  Depending on where the newspapers were printed, it could take several days to receive the most recent edition.  And if you were lucky, the paper arrived undamaged!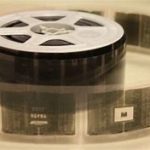 Newspapers take up a lot of precious shelf space, especially when they are published daily.  To alleviate the space required for old newspapers, they were "photographed" onto microfilm or microform.  Even though the first uses of microfilm occurred as early as 1859, this technology wasn't embraced by libraries until the 1960 and 1970s.*  However, this technology is cumbersome to use and not a big favorite among library users.  The Hatfield Library no longer receives newspapers on microfilm, but we still have a large collection of older microfilm titles.
Nowadays we access most of our newspapers digitally through the Internet, where they are much more accessible and not confined by physical space limitations.  Of course, digital newspapers require Internet access, electrical power, and often charge expensive access rates.  Technology has allowed us to scan old texts for recognizable words; we can search these words digitally and often bring up that exact instance used within a newspaper.  It certainly beats sifting through stacks of print newspapers or scrolling through rolls of microfilm!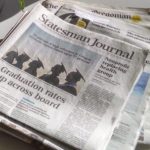 The library continues to receive a number of important regional newspapers in print as well as a selection of national newspapers. Many of these titles are also available digitally; library users are able to access an incredibly wide range of newspapers online through our list of newspaper databases.  If you have a specific newspaper in mind, try looking it up in the Newsbank A-Z list of over 6,500 news sources.  Frequent questions we receive for specific newspapers include the Oregonian, Statesman Journal, Register Guard, New York Times, and Wall Street Journal.
If you're looking for general news, a great place to start is Access World News. This resource pulls from over 5,900 U.S. news sources and international news sources from 172 countries!  It contains content from newspapers, wire services, and broadcast news transcripts.  You can also search for news sources by location.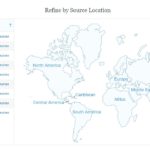 We have the full C-SPAN collection which include every C-SPAN program aired since 1987 to present! This is an excellent resource for gathering information about U.S. politics.
International Newsstream is a collection of the most recent news content outside of the U.S. and Canada.  For only Canadian news, try our Canadian Newsstream.
For regional and local news, we have the Oregon Newspaper Source (a collection of 31 Oregon news sources), and Regional Business News.  We also have the Historic Oregon Newspaper database, which contains over 900,000 pages of Oregon Newspapers between 1846 to 2017.
America's Historical Newspapers is ideal for really old content. It provides the full text to over 700 historical U.S. newspapers between 1690-1876.  And the Historical New York Times provides full page and article images with searchable full text back to the first issue ((1851).
Current Willamette faculty, staff, and students have off-campus access to these digital resources, and the general public are welcome to access these resources in the library.  If you don't see what you need on our list of newspaper sources or have questions, please ask one of our knowledgeable library staff.  They would be happy to help!
* Source: microfilmworld.com/briefhistoryofmicrofilm.aspx
Written by John Repplinger