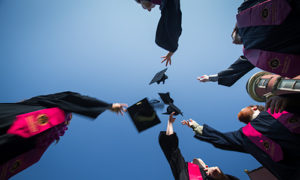 Graduation season is upon us so it is time for the graduates to be thankful that they successfully made it through the labyrinth. And to be thankful for parents, families, friends, professors and all those who helped them earn that degree. The tassel is worth the hassle! In honor of graduation and gratitude, check out a few related books listed on our Reading Guide.
You are educated. Your certification is in your degree. You may think of it as the ticket to the good life. Let me ask you to think of an alternative. Think of it as your ticket to change the world. — Tom Brokaw
Congratulations, graduates!